We are so proud to have Brand Ambassadors like Jill and her family PLAYING HARD and BEING SEEN in our ZAPPED GEAR.   
Be sure to check our her digital lifestyle magazine at 
PLAY HARD.  BE SEEN.
The darkness is coming. And I don't mean anything Death Star related (for once). Canadian winters mean extreme temperatures and less than 9 hours of light on the solstice. While snuggling up by a fire is perfectly acceptable adult entertainment, our kids tend to want to do more extreme activity – even when it's dark. A lack of light can cause more problems than dips in mood. When we can't see kids crossing the street in the rain or chasing a wayward basketball at dusk, parents worry sick about their safety. Thankfully, mother and awesome designer Scarlet Kux-Kardos founded Zapped. The Zapped Outfitters collection of edgy and rugged waterproof clothing, reflective shoes and hats features custom-designed fully reflective fabric that is embedded with glass beads that reflect light at night! (Below photos taken with and without flash to show how cool the fabric is!)
My 12 year-old son is a bit of a fashion hound so finding clothing that is cool enough for the skate park can be a challenge. When he saw the Zapped website and Instagram channel, though, he begged to incorporate as many pieces as possible into his back to school wardrobe. The fact that each item has reflective components made it even more cool – and safe.
Kids shouldn't have to hibernate or hide their joy and light. If your little ones are like mine, they count the minutes until recess and glory in every second of play. Encouraging them to play hard and be seen for the unique and special people they are is key.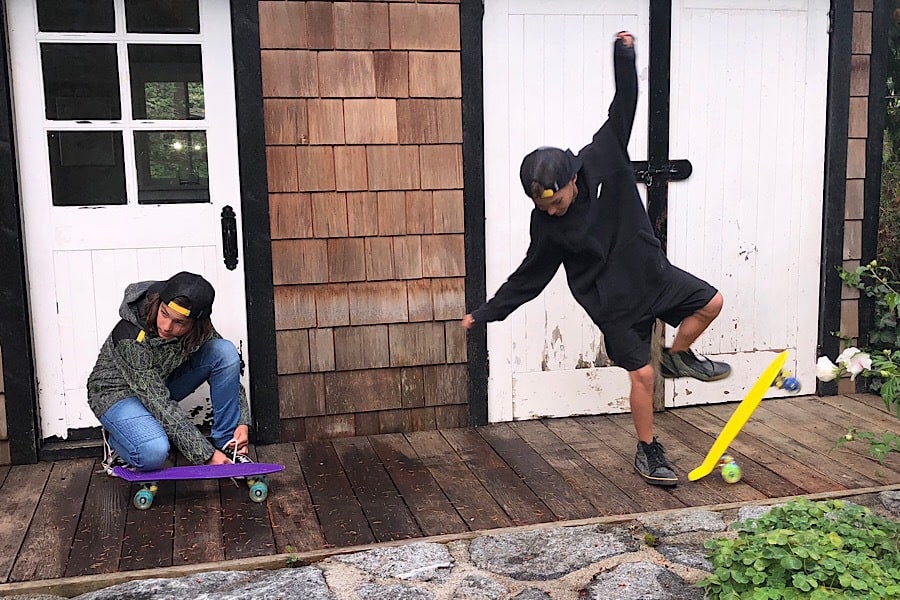 Today was photo day, and both Ford and Hudson clamoured to wear their Zapped reflective gear. The walk to school, of course, was filled with climbing, jumping and several minutes of Fortnite dancing. Ford is wearing the Zapped flat-brimmed ball cap ($30) and reflective hooded jacket ($110). Hudson may never take off the zippered high-tops ($90) again. They come with elastic laces and a side zipper so you never have to even untie the bow.
I will definitely be grabbing a couple of Zapped reflective backpacks for the kids. I just wish they made funky, urban clothing for Moms too!
The goodness of this cool brand doesn't end at high visibility though. To celebrate the launch of ZAPPED, the company has partnered with backpackbuddies.ca, which helps fill children's backpacks with food items for the weekend, when other food programs are unavailable. The second is rubensshoes.com, which donates shoes to kids in developing countries who might otherwise miss school due to a lack of footwear. Zapped Outfitters has an ongoing relationship with both organizations to donate proceeds from shoe and backpack sales.
You can view the original post here: 
http://www.urbanmommies.com/play-hard-be-seen/